Added Control and Extra Efficiency

Canon's uniFLOW Output Manager (OM) is designed to save you time and money by providing effective controls over your entire print fleet. You will be able to identify and control the cost of printing, copying, scanning, and faxing across your enterprise. Indentify users printing behaviors and address their needs to improve the overall efficiency of printing.
Reduce Costs and Improve User Productivity
Save money by understanding your printing costs and introducing policies that discourage wasteful printing. Minimize time spent managing and solving IT problems while, at the same time, reducing the frustrations of users who can't print when they need to.Canon's uniFLOW OM addresses these issues by highlighting "out of toner" problems and paper jams. Your IT department is kept informed and, if required, pre-defined rules can be set up to re-direct jobs to other printers automatically.
Print Productively While Controlling Costs
Desktop Accounting/Statistics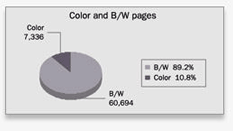 The Desktop Account module provides office users with key information concerning their network and locally connected printers, allowing administrators to better understand the usage levels and costs associated with printed and copied output.

When integrated with identiciations systems and the MEAP platform, the Desktop Accounting module also enables allocation of print and copy jobs to cost centers, student accounts, and project codes for charging and billing
Remote Printer Server

The Remote Print Server module allows administrators to account for printing in remote locations, providing complete control across all output devices, wherever they are. This allows organizations to send print-related files only over local networks while sending accounting information back to a central database to enable a company-wide understanding of output activity.
Rule Based Routing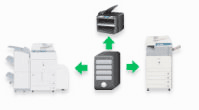 The Load Balancing module automatically routes print jobs to the most cost-effifient devices in an office. For example, it may send a small job to a desktop laser printer, but a larger one to a Canon multi-functional device.

The module can also divert jobs to alternative devices in the event of a problem so that staff productivity remains unaffected.
Server Clustering
Server Clustering allows uniFLOW to run on a clustered Microsoft Windows 2000/2003 Server environment, providing the highest degree of failover protection and load balancing.
Secure Printing
The Secure Printing Module provides users with mechanisms to control the output of sensitive documents. It holds print jobs at the server and only permits them to be retrieved by someone using an appropriate identification method. Universal Secure Printing also allows documents to be sent and then printed at the most appropriate device. Organizations can integrate many different identification systems with uniFLOW Output Manager including fingerprint readers, magnetic card readers, contactless card readers, and keyboard entry.
MEAP Functionality
The Secure Printing Module can be extended through MEAP technology. Normally the secure print function prints all the jobs waiting for a user at a device. The MEAP interface displays a list of jobs on the device control panel, enabling users to select the ones they want to print.
Heighten Document Security
Paper documents handled in the office often contain confidential information. If this confidential information is compromised, either deliberately or accidentally, the consequences can be damaging to business. While information on companies' computer networks is usually well protected, information being scanned and printed on MFPs is not.


uniFLOW OM can be used to introduce a completely secure printing environment that demands users to authenticate themselves at the printer before their print jobs are released. This way, confidential documents are not left lying on the printer tray for all to see.

uniFLOW OM also tracks all of the emails made from the MFP, attaching the credentials of the user to the sent emails. Just as from the PC, sending of anonymous emails from your office MFP will be prevented.
Professional Printing Modules
Job Ticketing
By using the Job Ticketing module to complete an on-screen order menu linked to their documents, users can communicate clear, precise instructions to print operators.
Web Queue Management
Print operators can use the Web Queue Management module to access a central queue for incoming print jobs, and then direct jobs to the most appropriate print device. uniFLOW assesses the print job and adapts it according to the output device specified, saving valuable time for the operator.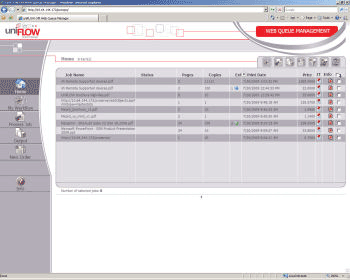 Internet Gateway
The Internet Gateway Module provides a direct interface with customers, giving 24/7 access to facilities and enabling them to simply and accurately specify job details.
Document Archiving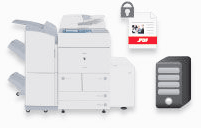 The Document Archiving module allows print jobs to be stored with all associated print setting for efficient future retrieval. And because archive information always incorporates the job ticket, users can check customers' original specifications, eliminating any confusion.
Job Conversion Instance
With the PDF Workflow module, PDF previews of jobs can be generated and viewed, saving time and money by providing accurate proofs prior to printing.
Load Balancing
In a production environment, minimizing output costs to maximize profitability is critical. With Load Balancing, you can ensure that jobs are allocated to printers that incur the lowest copy costs, and also split jobs to the relevant output device when they contain mixed-color and black-and-white pages.